Permanent Exhibits Gallery - Sandbox
Explore the complexities of contemporary Singapore with the Sandbox.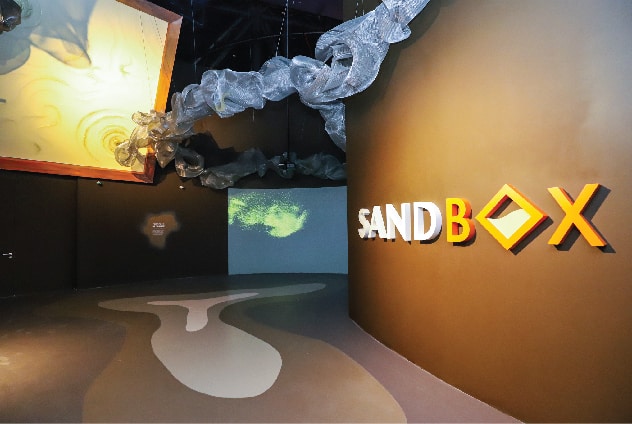 Follow the dynamic currents of sand into the Sandbox, where you will be greeted by an immersive adventure. Begin your journey through the multi-faceted, present-day Singapore that invites you to imagine our future together.
See how we each have the power to make an imprint in our own way through this digital interactive.
Glimpse into how you can shape, discover, experiment and make an imprint on our present and future in this short film.
Deep dive into the ways Singapore has built its defence and security systems to guard against complex and fast-evolving threats. 
Find out what it takes to remain resilient with the foresight and resolve to face the future.
Why Me? (Introduction video)
Look through the perspective of a Singaporean youth and find out why he and all Singaporeans matter in Singapore's defence and security efforts.
Discover 30 multi-sensory stories and explore how resilience, adaptability and foresight are crucial as our nation stays vigilant in our fight against evolving threats.
Be part of a team of key decision-makers and devise strategies to counter complex threats, like geo-strategic conflicts, as well as virus and disaster outbreaks.
Discover more about how Singapore strengthens its defence on land, in the air and at sea through video pods that showcase the Singapore Armed Forces' training sessions.
Find out about technological innovations that strengthen Singapore's defence capabilities and empower our soldiers to keep our homeland safe through this hologram presentation.
Enter a futuristic battle command centre and work collaboratively in a co-op simulation game to defend against threats from land, air, and sea!
Experience a hybrid threat within an immersive environment, where you step into the shoes of an individual, a community volunteer and a task force leader.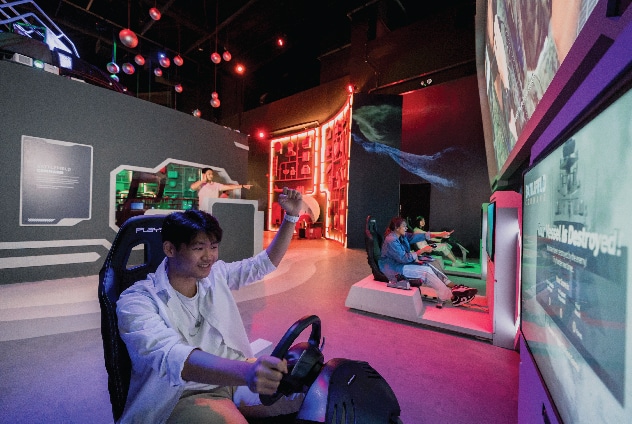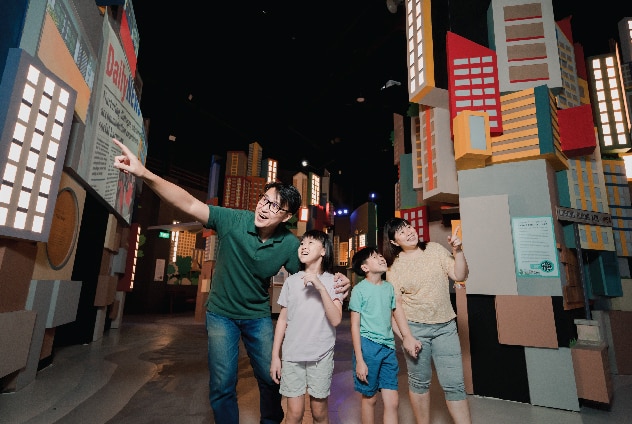 With a deeper understanding of our security landscape, continue to explore issues close to our hearts as the gallery delves into shared values and common spaces that bind us, define us, and inspire us, as Singaporeans and as a nation.
The Ties that Bind (Introduction video)
Peek through the windows of a community and see how they overcome differences and embrace their diversity.
Reminiscent of the warmth of home, seek out and explore the unique and vibrant spaces that make up Singapore's social fabric.
Celebrate our people's enterprising spirit and resilience, and explore how they adapt to the challenges and opportunities that the future will bring.
Journey through time to see how Singapore has braved adversities and defied the odds to emerge as a key player in our current global economy.
Learn how our people are constantly reinventing with an enterprising spirit, as they adopt new technologies and forge new paths in their respective industries.
Chart Singapore's path to a resilient future in a creative and sustainable manner by playing this larger-than-life game that highlights the themes of megatrends and sustainability.
Interact with this exhibit and discover which enterprising traits you share with Singapore's entrepreneurs, enterprises, and start-up founders.
Find out what version of Singapore's future makes the most sense to you through a tactile interactive that reveals different future scenarios.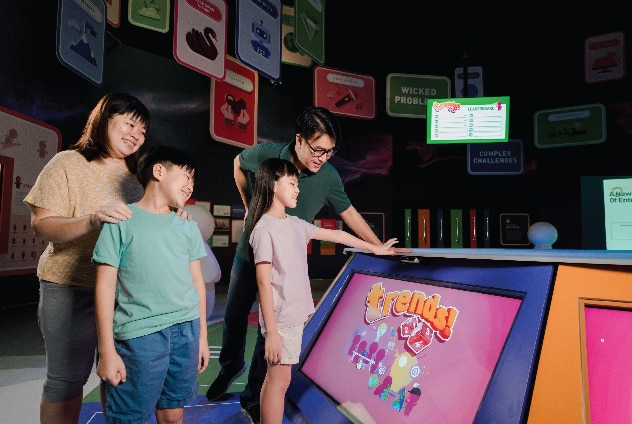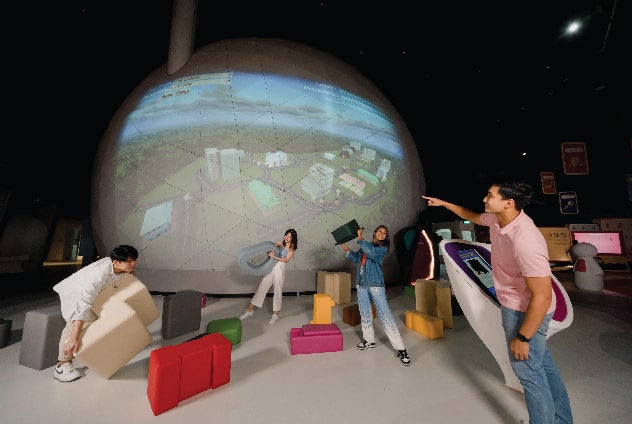 Fast Forward & The Interchange
Take part in experiential learning and co-creation activities in this interactive space that seeks to enhance your understanding of Singapore's challenges.
Create an avatar in this 3D animated game projected on a spectacular glowing globe and become a part of a growing community. Shape your own version of Singapore and build a healthy living environment based on key social, economic, and environmental metrics.
Create your own digital sand art by selecting the desired attributes of the Singapore you hope to see in the future!
Peer into this space that provides an exciting platform to promote innovation and entrepreneurship. Explore new ideas, collaborate on meaningful projects, and contribute to Singapore's future with like-minded individuals!
Become a part of an engaging discussion by participating in quick-fire round discussions on four thought-provoking topics.
Singapore Discovery Centre
510 Upper Jurong Rd, Singapore 638365