Food for Thought -
Virtual Sustainability Programme
Join us for a food for thought as we learn about carbon footprint and how you can help to keep emission low.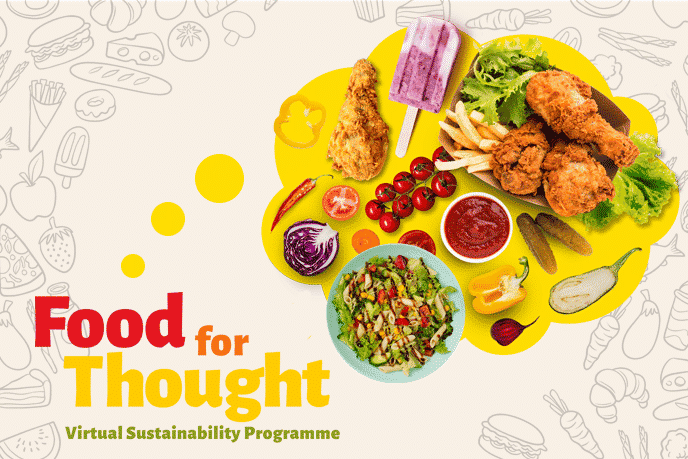 Recommended Age Group:
17 years old and above
Explore actions they can take to reduce carbon footprint.
Use creativity to transform waste materials into treasure through upcycling!
1. How Much Carbon Footprint
From the comfort of their own homes, remote participants join forces in a game that requires them to find hidden clues, solve puzzles, and ultimately find out the amount of carbon footprint in producing a burger.
2. Upcycled Planting Pot Challenge
An upcycling craft session where participants turn empty bottles at home into planting pots using craft materials. Potting mix and seeds will be delivered to participants prior to the session.
Climate Change
Global temperatures have been increasing faster than ever before over the past 100 years. Increased human activities lead to higher amounts of carbon dioxide in the air. Since carbon dioxide traps heat, the Earth becomes warmer.
Singapore's Gigantic Carbon Footprint
A high carbon footprint is sign of growing consumerism and excessive buying of imported goods. For example, imported food that is air-flown has significant impact on the environment. Singapore relies heavily on imported food such as red meat, seafood, fruits, and vegetables, making the country more susceptible to environmental risks. Consequences of high carbon footprint will intensify if Singaporeans do not take steps to reduce the emission of greenhouse gases in relation to food consumption!
Singapore Discovery Centre
510 Upper Jurong Rd, Singapore 638365