Educators' Learning Journey (Heritage & Food Trail)
This programme aims to encourage staff bonding by having a fun and engaging trip to various heritage sites!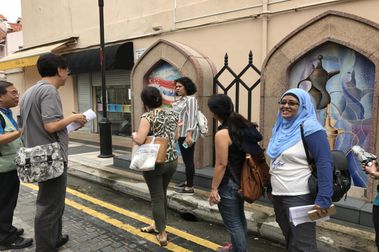 (Inclusive of travelling time)
Encourage staff bonding through outdoor activities
Appreciate our diverse cultures through experiencing food of a different culture
Explore the rich history and heritage of Singapore and appreciate the social cohesiveness amongst the various cultures
The programme aims to provide a fun and engaging trip to various heritage sites!
Part 1: Pre-Trail Briefing [20 Mins]
A mass briefing will be conducted with the staff at an arranged location prior to the start of the trail.
Part 2: Outdoor Trail [2 Hrs 40 Mins, Inclusive of Travelling Time between Sites]
Learn more about the cultural practices of the different races and be immersed in the sights and sounds of these areas. Lunch consisting of food from a specific culture will also be arranged for participants to explore a taste of Singapore. Free and easy time will also be dedicated for participants to do self-exploration.
Choice of Venues: (Please Choose 2)
• Chinatown
• Kampong Glam
• Little India
Singapore Discovery Centre
510 Upper Jurong Rd, Singapore 638365