Leave No Carbon Footprint Behind
Contributor: Angela Lim, Gallery Team, Singapore Discovery Centre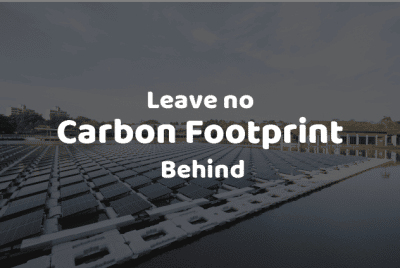 What do you get when you combine over 33,000 square metres worth of land area with an ambitious sustainability blueprint?
The first net-zero museum to ever exist in Singapore… by the year 2023!
Such is the thrust of the Singapore Discovery Centre's Greenest Plan, AKA our "Big Hairy Audacious Goal", or BHAG for short. A term coined by American authors Jim Collins and Jerry Porras, a BHAG (pronounced "bee hag") describes a long-term, compelling goal that is actionable by everyone in the organisation.
Echoing the Singapore Green Plan 2030, the three key pillars—increasing renewables, improving efficiencies, and inspiring behavioural change—lie at the heart of SDC's very own Greenest Plan.
Yes, we took it to the next level with the superlative, because I mean, go big or go home, right?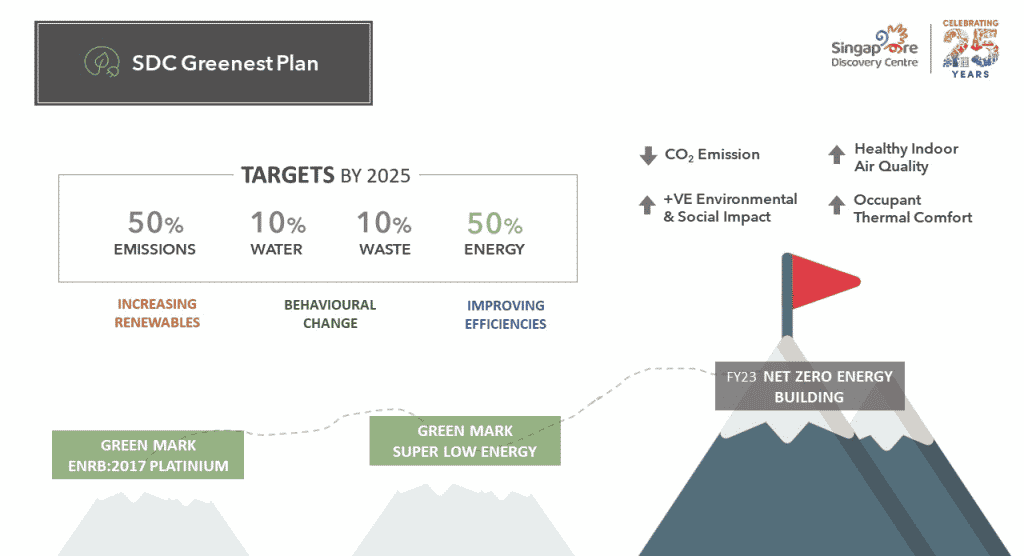 Waste No Time Going Green
In alignment with the Singapore Green Plan 2030, we have set several goals such as reducing our emissions and waste by 50% and 10% respectively by 2025. Varinder Singh, our Sustainability Manager, explains how his team's day-to-day work contributes to the whole-of-nation sustainability movement.
"Currently, we are looking into our waste generation methods and recycling habits to reduce waste," says Varinder. "We also grow and harvest crops, as well as run eco-sustainability tours to raise awareness on the importance of locally grown food and the '30 by 30′ goal."
The '30 by 30' goal refers to the national initiative to produce 30% of our nutritional needs locally and sustainably by 2030. A countermeasure to reduce our reliance on food exports and enhance our food security, this initiative comes hand-in-hand with other strategies such as diversification of food imports and stockpiling of food items.
Here in SDC, we are already working towards the '30 by 30' dream with our very own urban gardens! Visitors can take a peaceful amble through our gardens, engage their sense of smell and touch, and learn more about the variety of greens and herbs in our midst. Oh, kale yeah!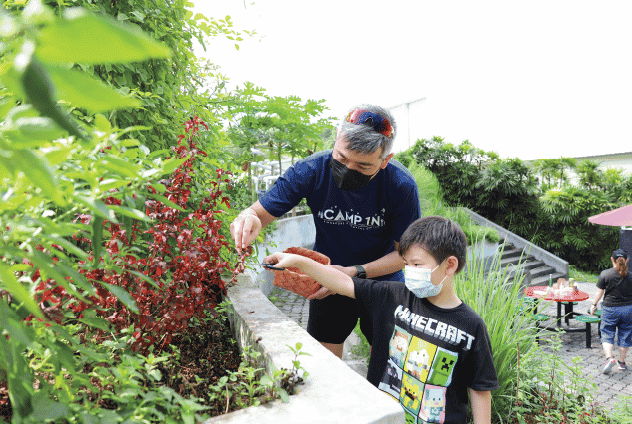 Watt's The Big Deal with Sustainability?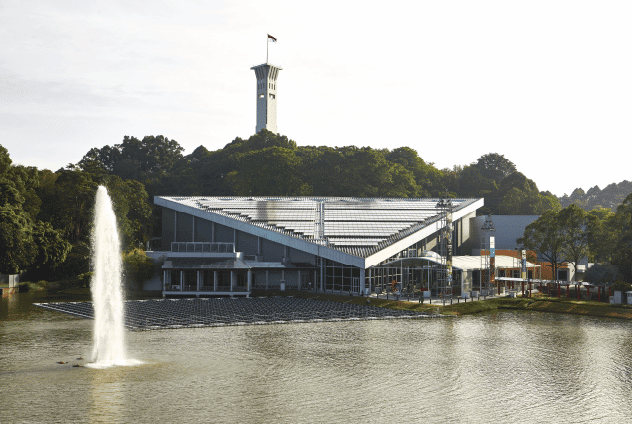 Apart from getting their hands dirty (literally!) in our urban gardening workshops, visitors are able to learn more about the thousands of solar panels that are powering SDC every day. Accounting for over 60% of our overall electrical consumption, these solar panels are harvesting, on average, about 72,000 kilowatt-hours (kWh) of electricity every month! To better contextualise these figures, the average monthly electricity consumption for households living in HDB flats is about 320 kWh, translating to slightly over $100 in electricity billing based on the tariffs as of June 2022.
Doreen Kang, our Sustainability Executive, fills us in on SDC's pioneering solar panels project which has since been gearing the centre towards a full-fledged energy reset.
"If I were to recommend one sustainability initiative to our visitors, it would definitely be our solar panels project which I'm most excited about!" quips Doreen. "We have a total of 2,874 solar panels with a capacity of 1 megawatt peak that are located at eight locations, including our rooftops, alfresco dining area, sheltered walkway, and floating platform among others."
Of these locations, our 196-metre-long sheltered walkway steals the show as soon as visitors step into SDC with the Japanese Torii gates vibes it exudes. This crimson walkway has even made it into the Singapore Book of Records as the longest sheltered walkway fitted with solar panels on the entire island! Talk about being rad!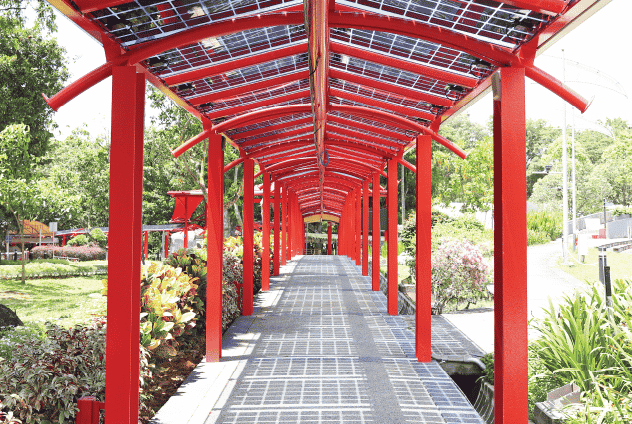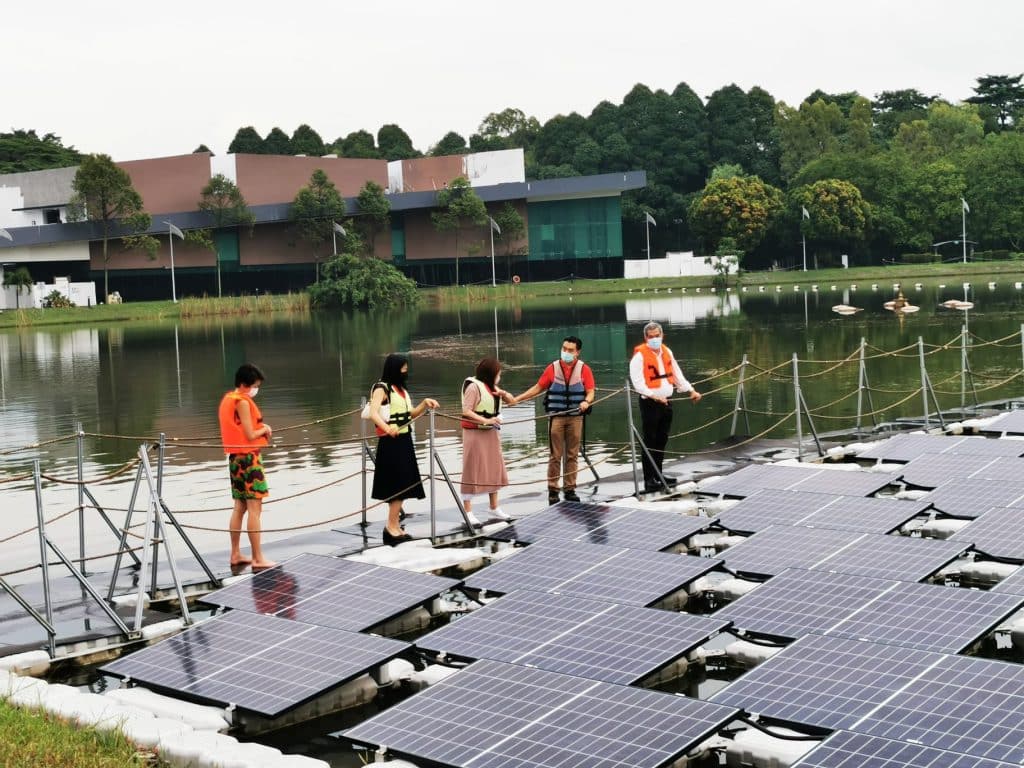 Take a leisurely stroll down the walkway and be greeted by our magnificent floating solar panel installation by the lake. With an integrated boardwalk and our pedal boat activity, visitors are also able to come up close and personal with the solar panels on the floating pontoons!
Showcasing our sustainability efforts and capabilities to the MINDEF External Advisory Panel for Environmental Sustainability (EAPES). Newly formed in 2022, the EAPES brings together a panel of industry experts to provide assessments on MINDEF's green policies and share insights on the latest technology and best practices
Moving forward, more solar panels are set to be installed around the centre such as in our open-air carpark. We are also actively reaching out to industry partners like the Solar Energy Research Institute of Singapore (SERIS), with whom we are collaborating to co-develop and pilot projects like mobile solar panels and urban farming shelters equipped with solar panel installations.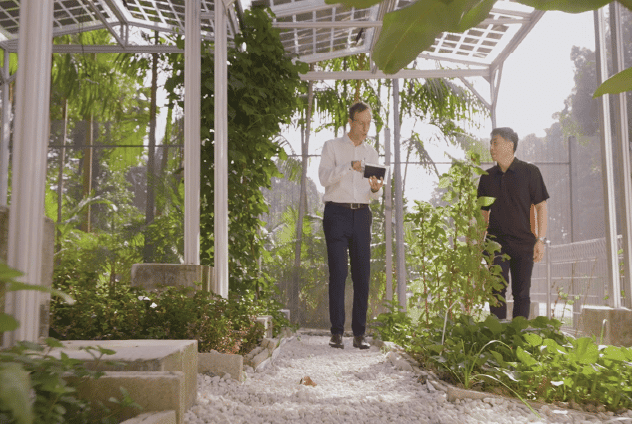 Immersive Gallery Experience San(d)s the Wastage
Besides being the highlight of our Eco-Sustainability Tours, the climate narrative features prominently in our Permanent Exhibits Gallery – Sandbox. Through digital interactives and gamified experiences, visitors are invited to rethink how they can contribute to making Singapore a greener place. True to its name, the gallery functions as a sandbox where visitors can discuss sustainability topics and exchange ideas in a safe environment.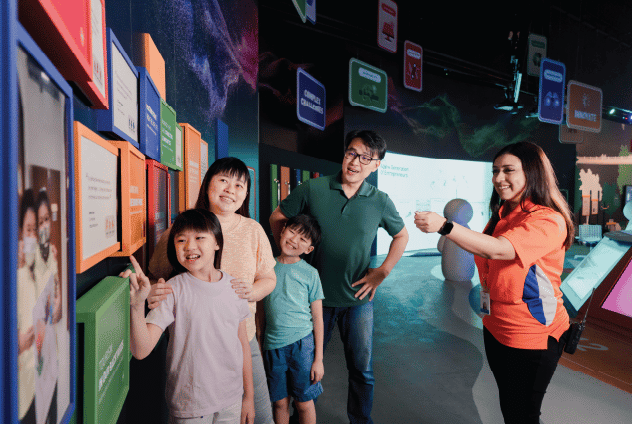 Being sustainable, too, was a key consideration from the onset of designing the gallery two years ago. Against the backdrop of the COVID-19 pandemic then, it was a balancing act between aligning with our net-zero goals and adapting to the evolving situation.
"We had to rethink the ventilation requirements in the traditional gallery and aim for innovative solutions to enable thermal comfort for visitors and meet the enhanced indoor air quality requirements due to the COVID-19 situation," explains Varinder.
During the developmental phase of the gallery, several sections were re-ducted to install hybrid fans. This helps to increase air velocity, which influences the convective heat exchange between the occupant and the indoor environment. In other words, you feel cooler with faster moving air around you, as opposed to no air movement.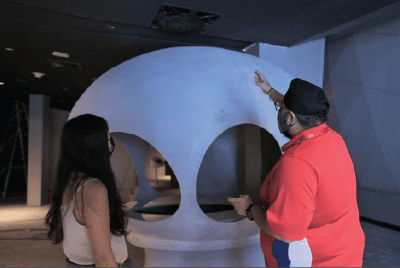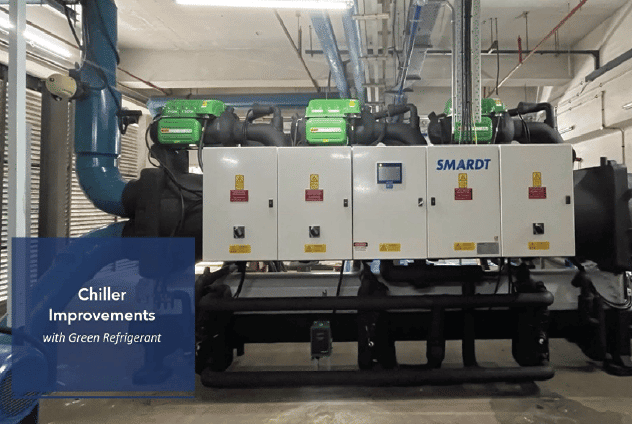 Like many museums and galleries in Singapore, air-conditioning is to us like how the "Uwu" bird is to the quintessential Singaporean morning soundscape. Many of our attractions such as the iWERKS theatre, escape room, and laser tag arena are indoors and fully air-conditioned. How then can we kill two birds with one stone, in that we reduce our energy consumption while ensuring the thermal comfort of our visitors?
This is where technology comes into play. As part of our rejuvenation efforts beginning in 2020, we have replaced our 15-year-old air-cooled chiller with a more energy-efficient water-cooled chiller that is equipped with a green refrigerant. The airflow within SDC was also redesigned to incorporate more mechanical ventilation, which has helped to reduce the number of AHUs by 20%. Fewer AHUs and increased natural ventilation translate to a lower capacity chiller, which in turn reduces our energy consumption.
In ways more than one, SDC is actively capitalising on our tech-enabled capabilities to counter the effects of climate change. In the pipeline (haha!) are also other strategies to improve our energy efficiencies, such as implementing more IOT-enabled smart Building Management Systems.
Somebody Once Told Me, The World Is Gonna…
… suffer the catastrophic consequences of climate change in no time – that is if we choose to ignore the science now.
Back in 2015, the Centre for Climate Research Singapore has already warned of a projected temperature increase of up to 4.6°C and a rise in sea level by up to about 1 metre by 2100. As a low-lying nation that imports over 90% of its food supply, climate change spells trouble for us with the increased flooding risks, food insecurity, as well as potentially disrupted shipping routes.
If anything, these worrying statistics—which are consistent with the findings of the United Nations' Intergovernmental Panel on Climate Change—point to the glaring fact that the business-as-usual stance has to go.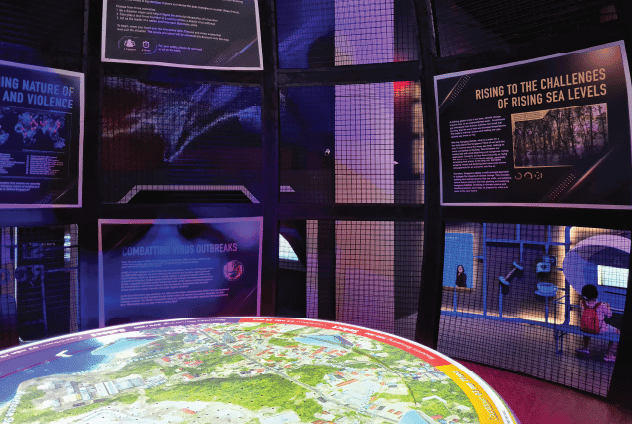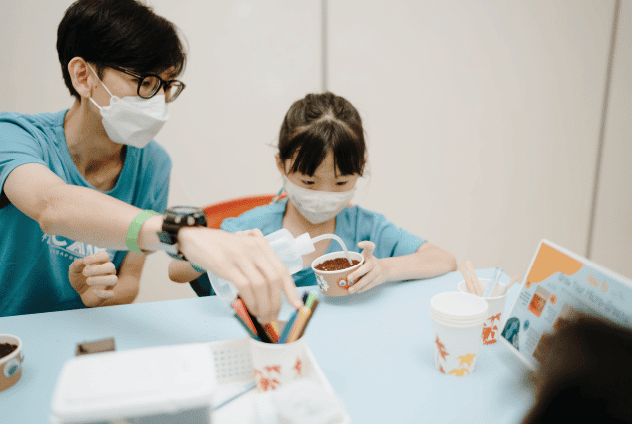 Well, business is definitely not as usual in SDC (JK, we are open from 12pm to 7pm on weekdays and 11am to 8pm on weekends if you're wondering). But in the larger context of climate action, we have most certainly ditched the business-as-usual stance in favour of more sustainable work processes, as well as staff and visitor engagement. 
"We hope that visitors can come and learn more about our sustainability efforts around the centre," says Doreen. "When they bring the knowledge home, they can create awareness and explore how they are able to make their lifestyles more sustainable."
Nevertheless, none of these efforts would have mattered if we are not able to truly galvanise our stakeholders to put their money where their mouths are. Powered by close to 3,000 solar panels and our determination to leave no carbon footprint behind, we find ourselves in a position to spark more ground-up actions and make a positive environmental impact, as our Executive Director, Joseph Tan, has so eloquently summarised:
"Climate change is something that confronts every one of us and it behoves us, as a museum community, to do our part in raising awareness and promote actions. Having the power to educate and inspire our visitors, I believe that the climate change conversation is something that museums all over the world must include in our narratives, regardless of our specific causes."
Perhaps, after all is said and done, we are just a museum standing in front of our community, asking people to love our planet (like we do).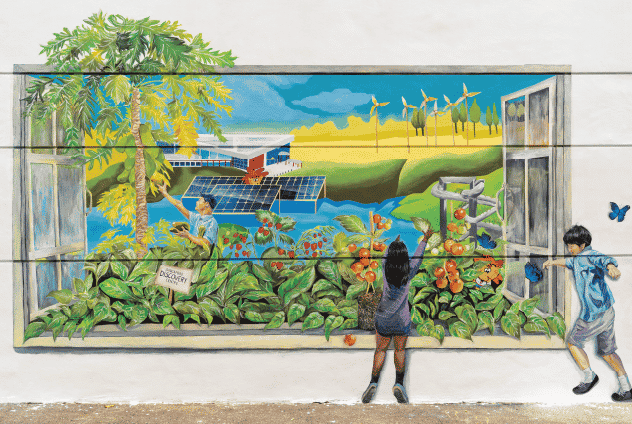 We can't wait to welcome you to Singapore Discovery Centre!
Availability of the various attractions is subject to the centre's operating hours. It is highly recommended to enquire and make a booking prior to your visit. Keep a lookout for updates on our website and socials!
Address: 510 Upper Jurong Road, Singapore 638365
Opening hours: Weekdays: 12PM-7PM, Weekends: 11AM-8PM (Including PHs and School Term Holidays)
Telephone: 6792 6188
Singapore Discovery Centre
510 Upper Jurong Rd, Singapore 638365