Are You (Th) ready to Spring to Singapore's Tote-al Defence?
Contributor: Angela Lim, Gallery Team, Singapore Discovery Centre

Through installations decked out in kaleidoscopic colours, Singapore Discovery Centre (SDC)'s Totes, et al. Defence Showcase commemorates the 80th anniversary of the Fall of Singapore and invites visitors to contemplate pertinent issues related to Singapore's security in a fun and playful manner. In our first-ever article, we sit down with the team behind the showcase to find out how they explored imaginative, interactive approaches to better engage visitors on defence-related topics.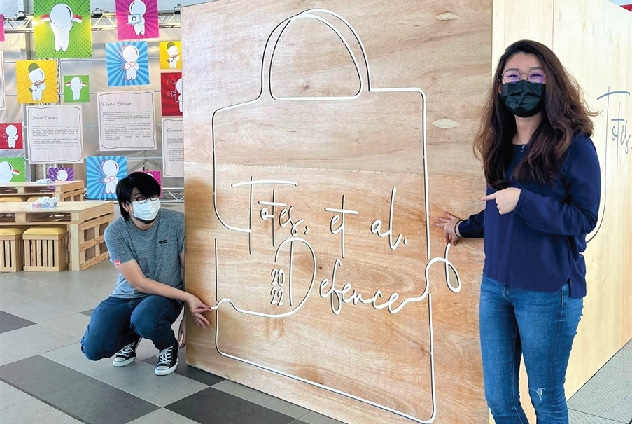 Tugging at your heartstrings: Joel (left) and Si Min (right) from the Gallery Team enjoy flexing their creative muscles to develop compelling showcases that pull visitors in. Is it working?
Are You (Th)ready To Spring To Singapore's Tote-al Defence?
Six larger-than-life spools sit at the centre of an elevated platform, along with 80 suspended tote bag lanterns strung together by colourful threads.
Flanked by wooden panels exuding a calming, minimalist vibe, you might not associate this with a showcase on serious defence-related topics at first glance.
But this is the exact starting point the team wants you to begin your journey on.
"I enjoy trying to approach National Education with a lighter touch. I find that the best kind of learning is when you do not know you are learning," quips Joel Lim, the project manager behind the overall concept of the showcase. "With the location of the showcase in mind, we wanted to use more vibrant colours to attract the eye and draw visitors' attention to the installation when they step into Singapore Discovery Centre."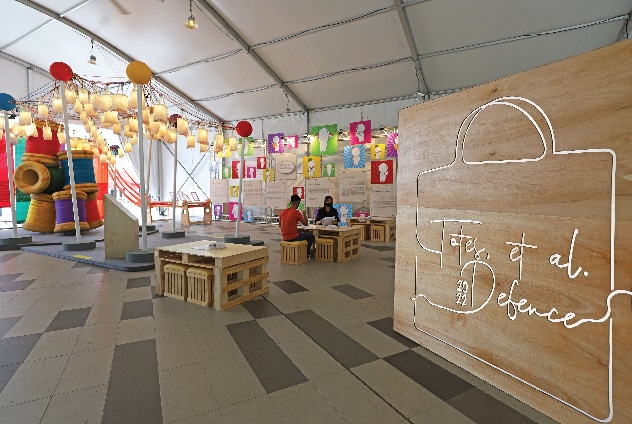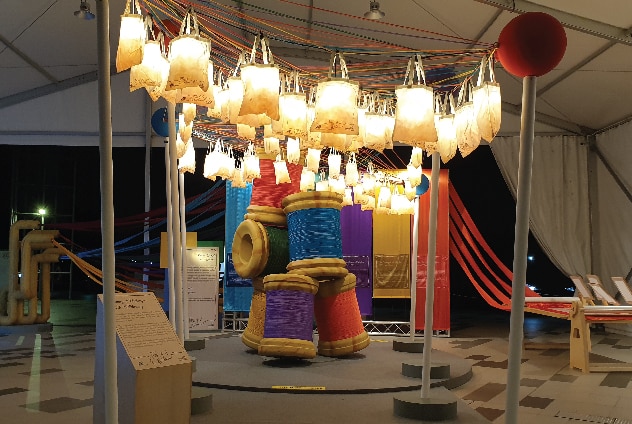 So, while visitors are snapping photos of and with the Instagram-worthy installation, a wooden side podium helps to frame it in context. Titled Memory of History – 15th of February, the centrepiece commemorates the 80th anniversary of the Fall of Singapore – as represented by the 80 tote bag lanterns. Interconnected by threads, the six precariously balanced spools embody each of the Total Defence pillars, reminding us not to take our peace and security for granted.
What ties the showcase together—figuratively and very literally—is the central theme of threads and fabrics. Drawing from commonplace tote bags and different types of fabrics, key Total Defence topics are discussed and highlighted, including past and present security issues such as terrorism and digital threats, and how each defence pillar is being practised in today's context.
"We wanted to compare the creation of tote bags with how Total Defence came to be. Starting from the fibres that are spun into thread, we liken this process to the events of our past and present that tie us all together as a nation," Joel shares. "Akin to the multitude of fabrics with their unique uses respectively, each defence pillar, when practised and reinforced by our people, protects us against specific threats to our nation's wellbeing."
To inspire visitors to take on a more active role in Singapore's defence, a section of the showcase echoes the call to action tied to each defence pillar. Paying homage to the established technique of silkscreen printing, visitors learn more about how they can put each defence pillar to practice in their own capacity through messages presented in a vibrant, pop art style.
Referencing how each individual print is unique even though they use the same stencil and process, Joel sees silkscreen prints as the perfect metaphor for our unity in diversity. "While each Singaporean might come from the same mould or screen in this case, we come out as unique individuals and when placed together, we can create amazing works of art," Joel says.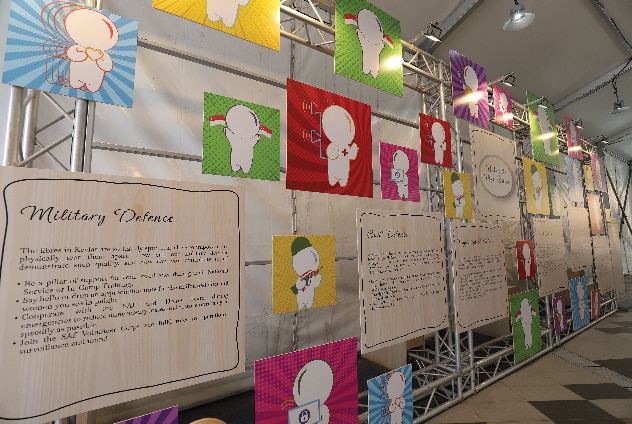 To make a conceptual idea like this flow without compromising on key learning messages is undoubtedly a challenge. During the months-long brainstorming, a key consideration within the team would be how best to weave important defence-related topics into the showcase in a fun, tasteful, and seamless manner.
Spearheaded by Joel, the self-styled "purveyor of crazy ideas and out-of-the-box thinking", this is always an invigorating process for the team. Everyone will throw out the ideas that have been brewing at the back of their minds and witness them bouncing off one another.
From pop culture references to current affairs, the canvas is free for all to unleash their creativity. That said, anchored by the core Total Defence messages, the team also keeps each other (mostly Joel) in check. "I may go too far out of the box sometimes, but that's where a team helps to reign you in," he laughs.
Girls (and Boys) Just Wanna Have Pun
This conceptualisation process is also a time for the wordsmiths in the team to shine. Armed with a sense of humour that would put most dads to shame, they scour the Internet and rack their brains for the most inspiring, theme-appropriate puns to incorporate into the showcase.
It was in this spirit of fun competition where the witty, tongue-in-cheek title of the showcase "Totes, et al." was born.
"Tote-al Defence is a pun used ad nauseam. To spice it up a little and focus on the themes of diversity and inclusivity, we decided to add 'et al.' in it," explains Joel. "Meaning 'and others', we want to highlight that Total Defence is not just about what has been taught to us, but what it means to each individual visitor."
A self-proclaimed "pun pundit", Lim Si Min led the content writing effort behind the showcase, to whom many of the cleverly woven puns are attributed. "I enjoy waxing lyrical about wordplay with my colleagues, and I weave this aspect into the exhibition copies that I write," she says. "Alliterating is a fun bonus we enjoy adding into the mix! We develop and integrate key concepts and current issues that are relevant, realistic, and relatable."
(Yes Si Min, we saw what you did there!)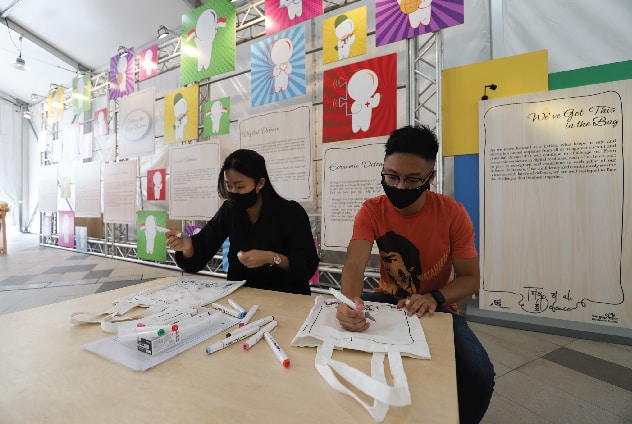 A tote bag designing activity for a tote-related showcase? We totes understood the assignment!
When Style Meets Substance
Producing punny and punchy lines, however, is not the only thing Si Min grasps with flair. As with the fun bit of the project, she undertakes the challenge of ensuring that the content resonates with the audience and that the key messages of Total Defence are not compromised in any way.
"The topics under the umbrella of Total Defence are well-known but also constantly evolving. Finding new, engaging ways to champion community cognizance without sounding overtly preachy or repetitive is certainly challenging," Si Min shares. "However, by curating content from creative angles and leveraging on relatable concepts, our team is able to approach Total Defence from fresh perspectives."
For Si Min, the Totes, et al. Defence Showcase complements SDC's plethora of offerings, including the Black Lake Laser Battlefield (an immersive laser tag arena) and the Permanent Exhibits Gallery: Through the Lens of Time and Sandbox, which touches on significant historical and contemporary Singapore topics.
"Each attraction in SDC sheds light on a portion of the wide tapestry that is our Singapore Story," explains Si Min. "With the Total Defence showcase, we can focus on topical and timely topics such as commemorating the 80th anniversary of the Fall of Singapore. This complements and builds upon the content that we share in our interesting and immersive Permanent Exhibits Gallery."
Chiming in with his insightful and "objective" take, Joel recommends another popular attraction in SDC that is a must-try for visitors.
"I think the Black Lake Facility is one of the more exciting attractions here at SDC. Helping to build critical thinking and teamwork, I like that this immersive escape room experience uses a much softer approach to National Education," he says. "Also, full disclaimer: I might be biased as I worked on that project too (laughs)."
A thoughtfully stitched, fun-packed showcase woven seamlessly into the larger fabric of exciting centre-wide offerings, Totes et al. Defence is the best starting point for your journey here at SDC.
Totes, et al. Defence runs daily at the Singapore Discovery Centre from 15 January to 27 March 2022. Admission is free.
We can't wait to welcome you to Singapore Discovery Centre!
To ensure a safe and enjoyable time for everyone at our centre, please refer to our visiting guidelines before making your way here.
Entry to the respective attractions/facilities will only be granted with valid proof of full vaccination upon admission. Prevailing safe management measures apply. Prices stated are subject to prevailing government taxes.
Availability of the various attractions is subject to the centre's operating hours. It is highly recommended to enquire and make a booking prior to your visit. Keep a lookout for updates on our website and socials!
Address: 510 Upper Jurong Road, Singapore 638365
Opening hours: Weekdays: 12PM-7PM, Weekends: 11AM-8PM (Including PHs and School Term Holidays)
Telephone: 6792 6188
Singapore Discovery Centre
510 Upper Jurong Rd, Singapore 638365