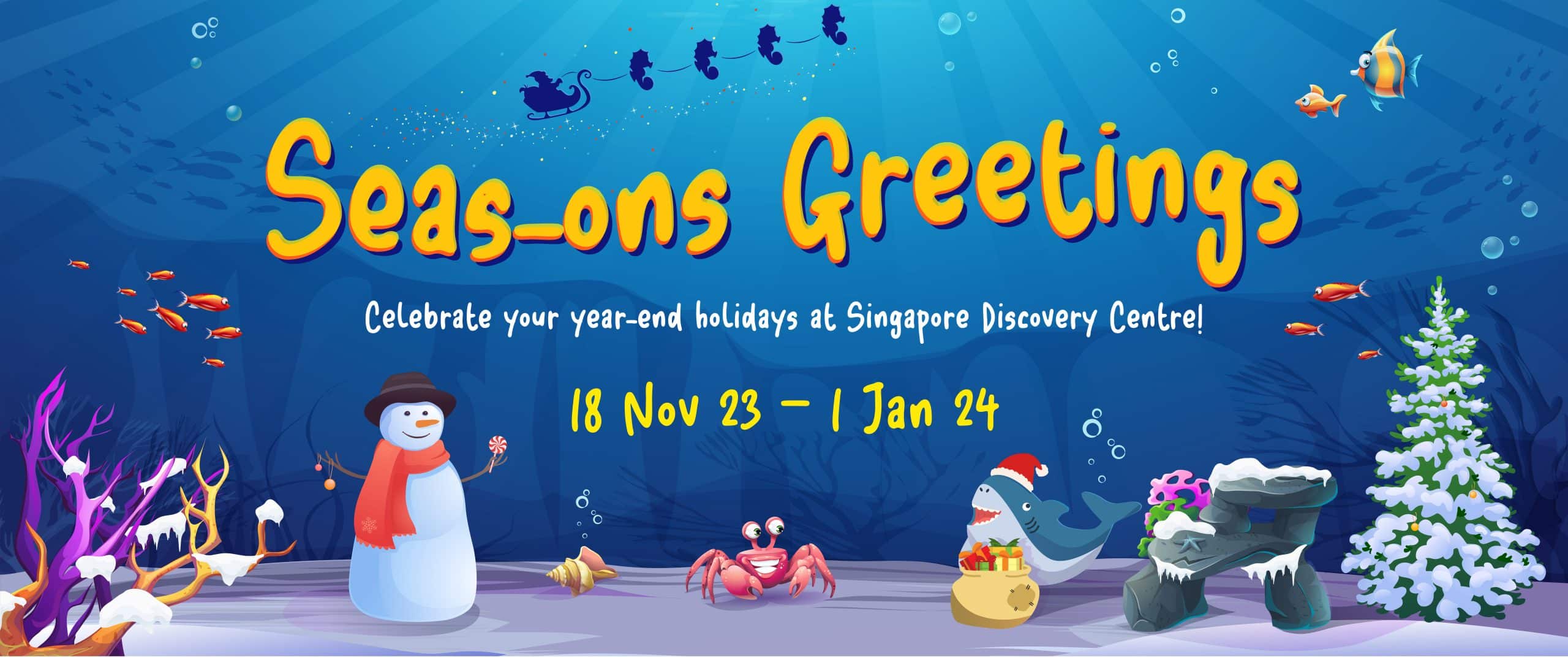 Dive into a world of seasonal wonders this year-end holiday at Singapore Discovery Centre's Seas-ons Greetings. Celebrate the holiday season in a way never seen before. Join us for an underwater-themed year-end spectacular that will immerse you in a sea of joy and discovery.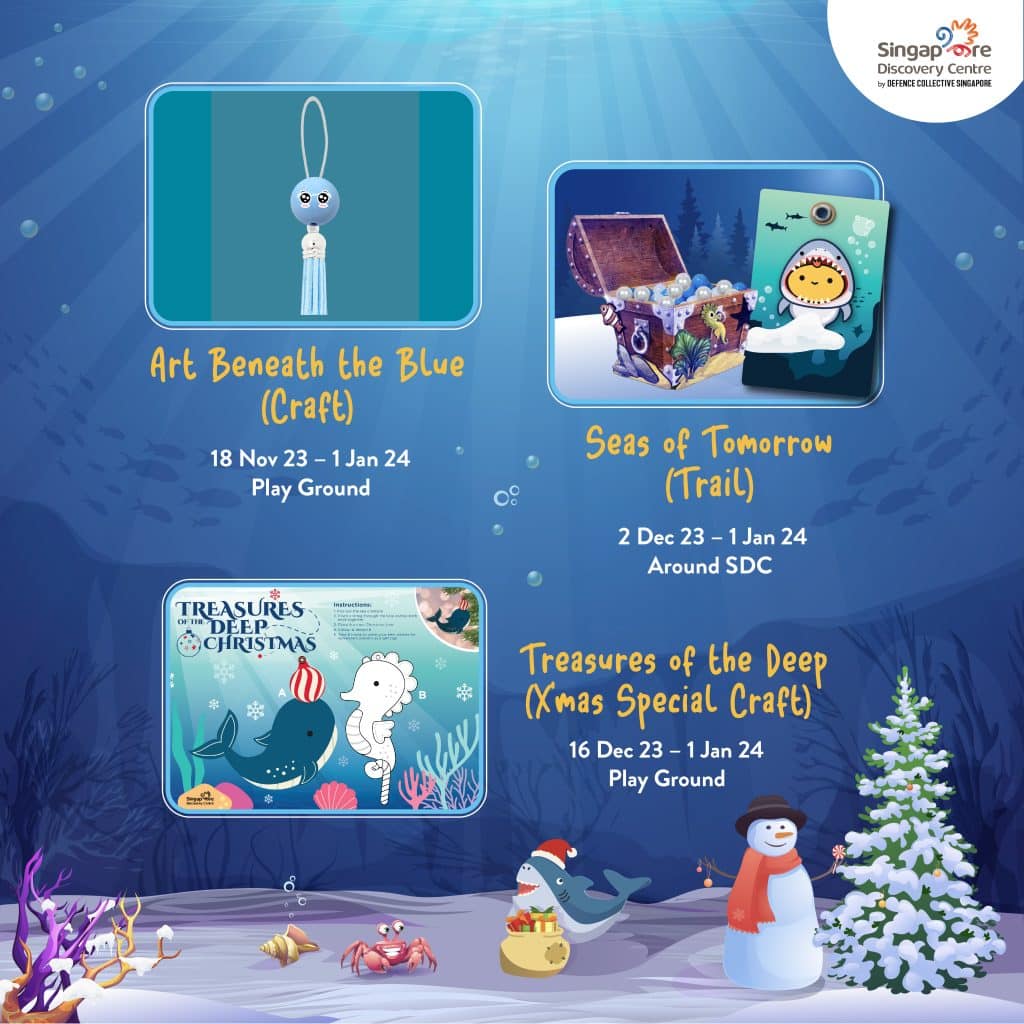 Don't be shellfish! Protect our underwater treasures. Learn more about sea creatures in Singapore through our interactives around SDC and what we can do to protect them. Redeem an exclusive SingaJAWS pin when you complete your trail!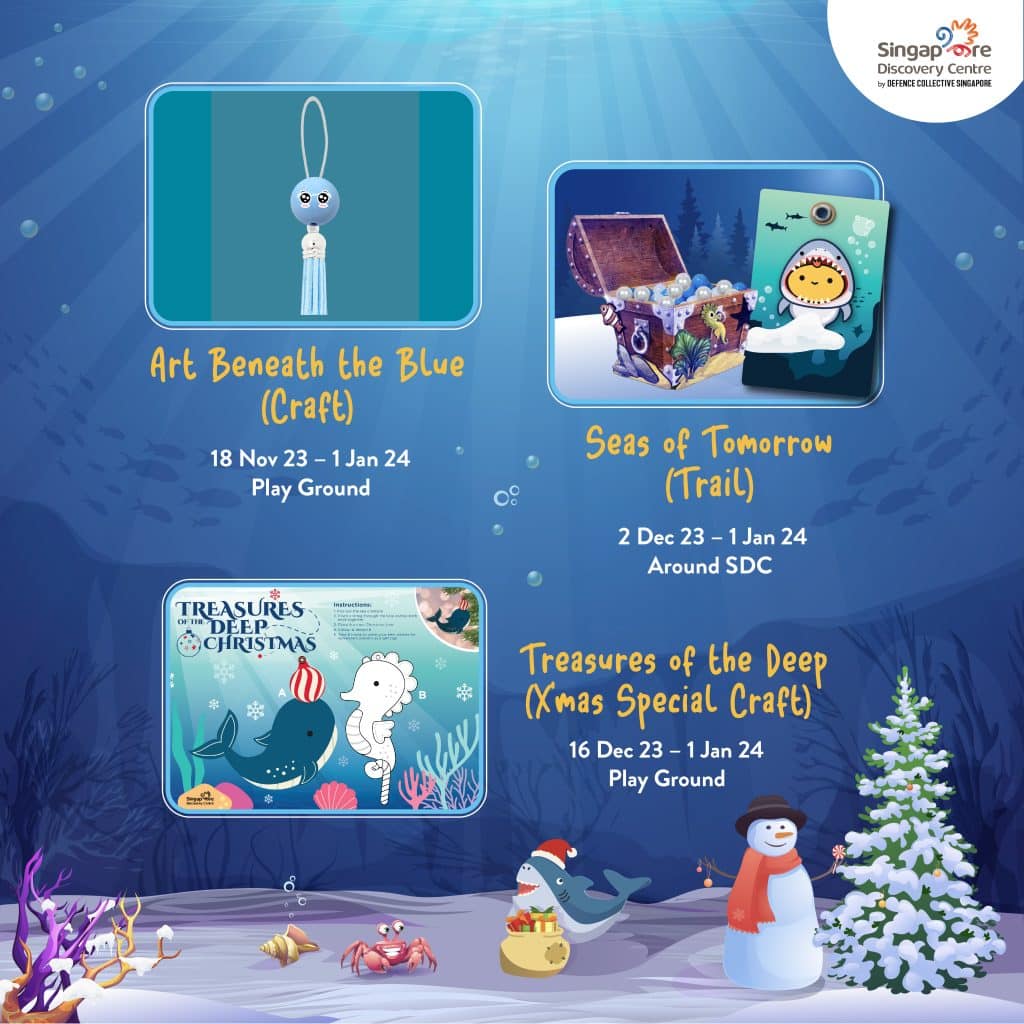 Art Beneath the Blue (Craft)
INK-orporate recycled materials from our old exhibitions and breathe new life into them by creating your very own octopus keychains! 
Treasures of the Deep (X'mas special craft)
Shell-ebrate the season of giving with your underwater ornament creations!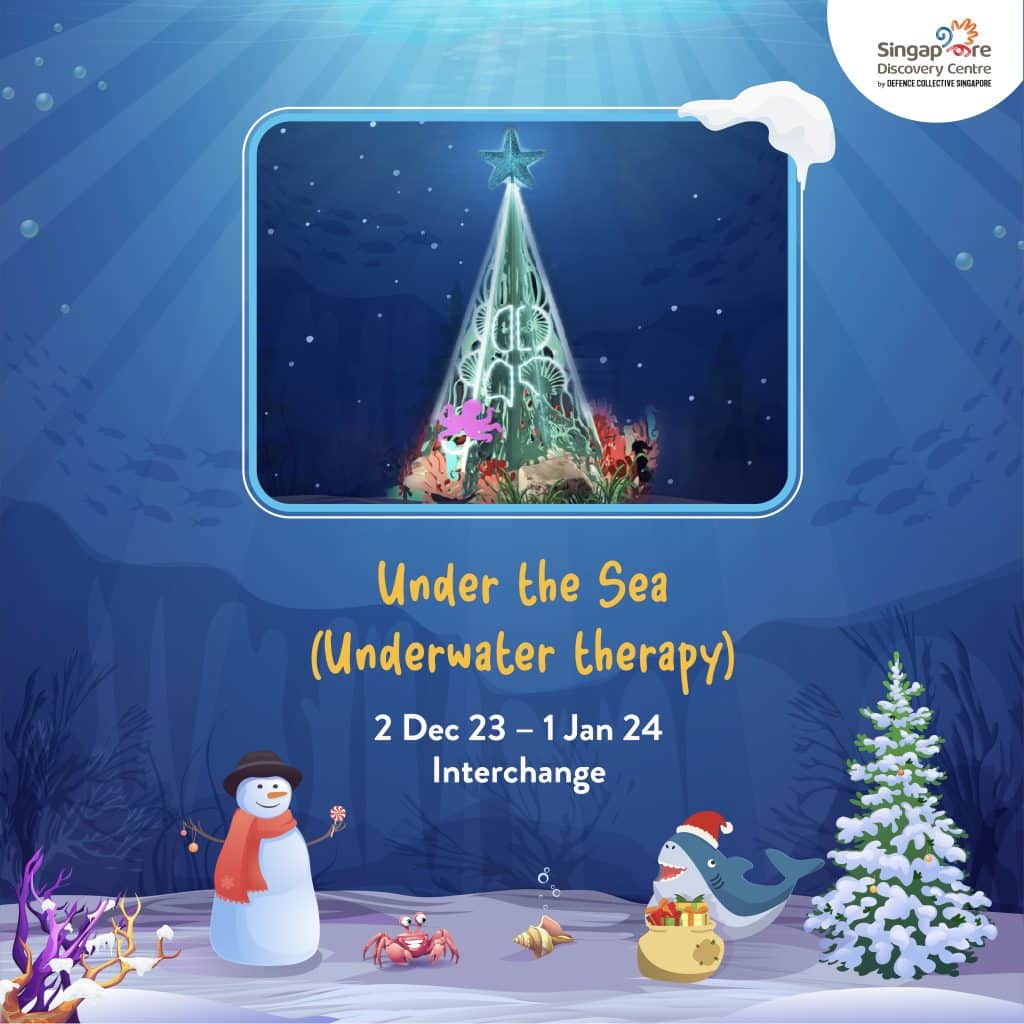 Under the Sea (Underwater therapy)
Life under the sea is better than anything up there! Relax in our immersive underwater world and enjoy the sights and sounds.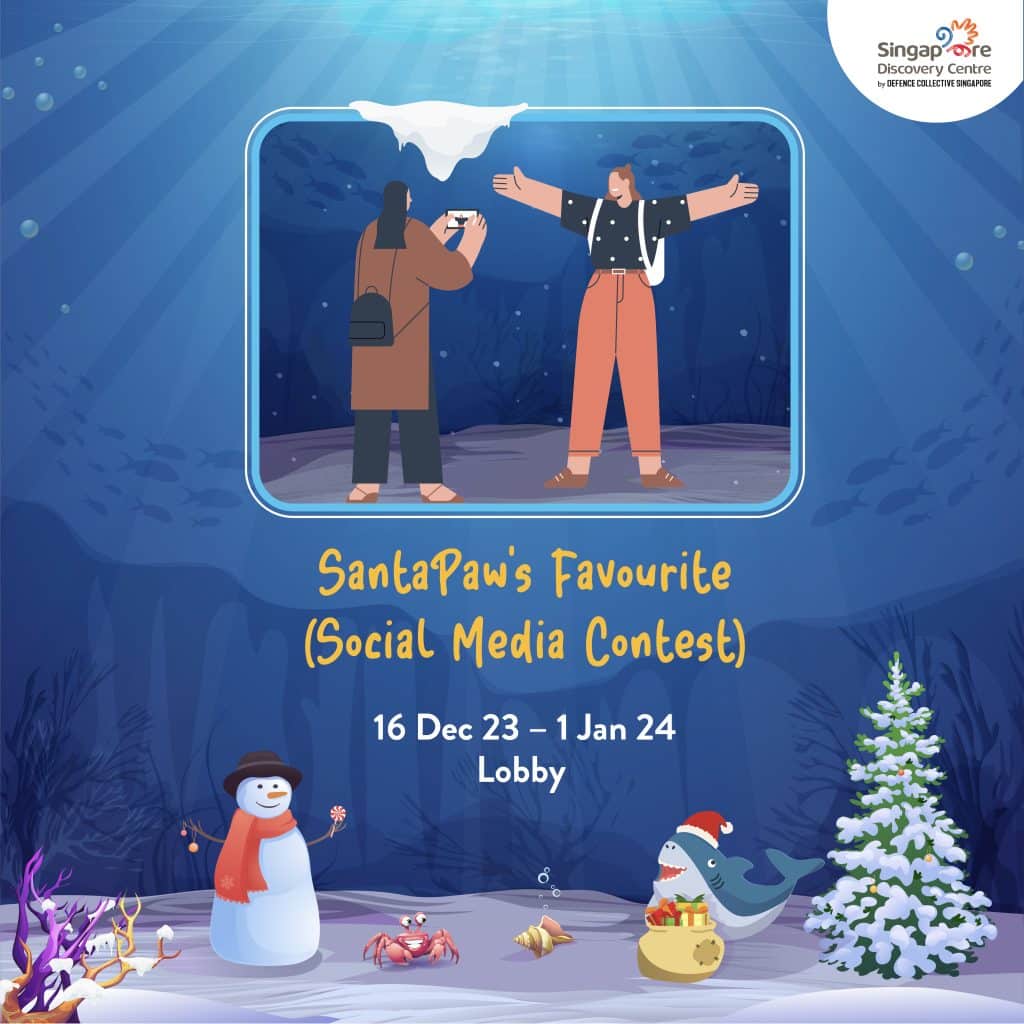 SantaPaw's Favourite (Social Media Contest)
Get ready to spread holiday cheer at Singapore Discovery Centre! Join our social media contest, #Seas-sonsGreetings, during the year-end celebration. Visit us, capture the festive spirit, and share your most creative and joyful photos on Instagram. Use hashtags #Seas-sonsGreetings, #YearEndCelebration, and #SingaporeDiscoveryCentre, and don't forget to tag us @SingaporeDiscoveryCentre. The most creative photo will stand a chance to win amazing prizes worth up to $150! Be SantaPaw's favorite by sharing your holiday happiness with us. Get snapping and make this season special!
<Contest Rules>
Participants must have a public Instagram/Tiktok/Facebook account.
Only one entry per person is allowed.
Entries must be posted during the contest duration.
Entries can be in a form of a story/reels need not to be post.
Participants must be following @SingaporeDiscoveryCentre on Instagram/Facebook/Tiktok to be eligible.
Entries will be judged by SantaPaw based on creativity and holiday spirit.
The winning image will be selected by a panel of judges from Singapore Discovery Centre.
Winners will receive have to collect the physical vouchers within 2 weeks from the message sent by Singapore Discovery Centre's social media account.
By participating, you consent to your image being shared by Singapore Discovery Centre with credit to the original creator.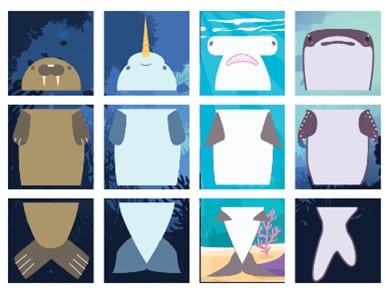 Which Sea Creature are You?
Take our sea-riously fun sea creature personality quiz and discover if you're a whale-y good match with your underwater alter ego!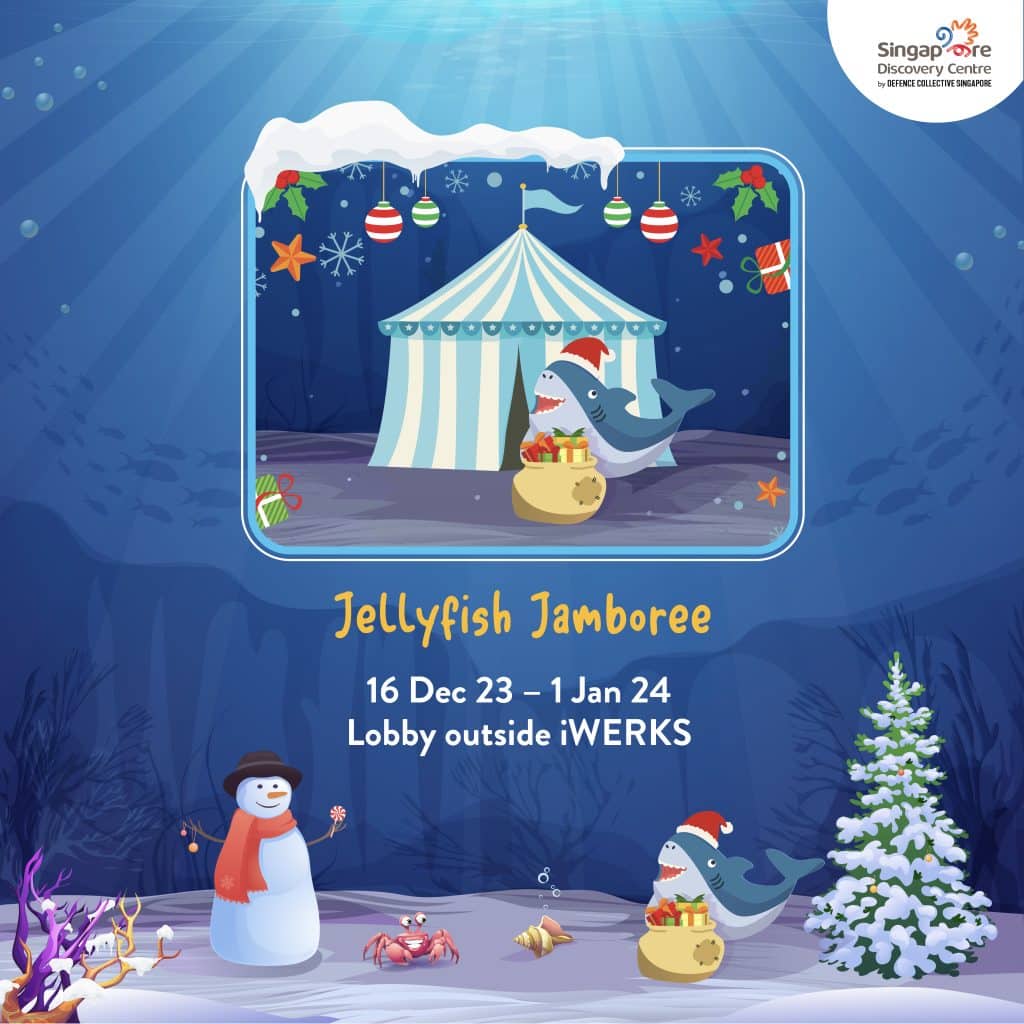 Dive into a world of merriment! Immerse yourself in aquatic-themed games and vibrant decorations that breathe life into the ocean. Experience the enchanting fusion of holiday magic and the mesmerizing underwater realm at our carnival games.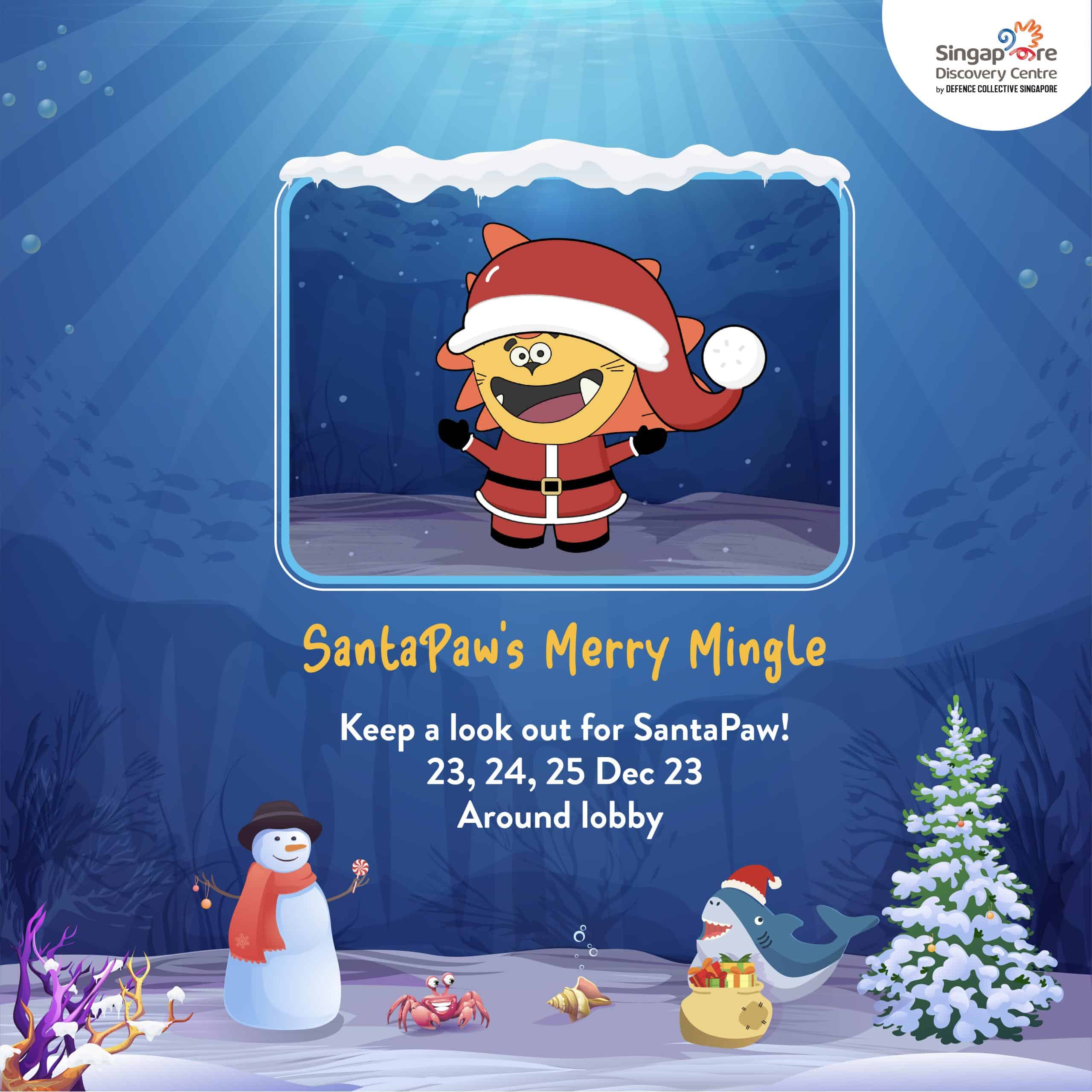 Join us for SantaPaw's Merry Mingle, a paw-sitively delightful meet and greet with Santa's furriest helper! 
Singapore Discovery Centre
510 Upper Jurong Rd, Singapore 638365