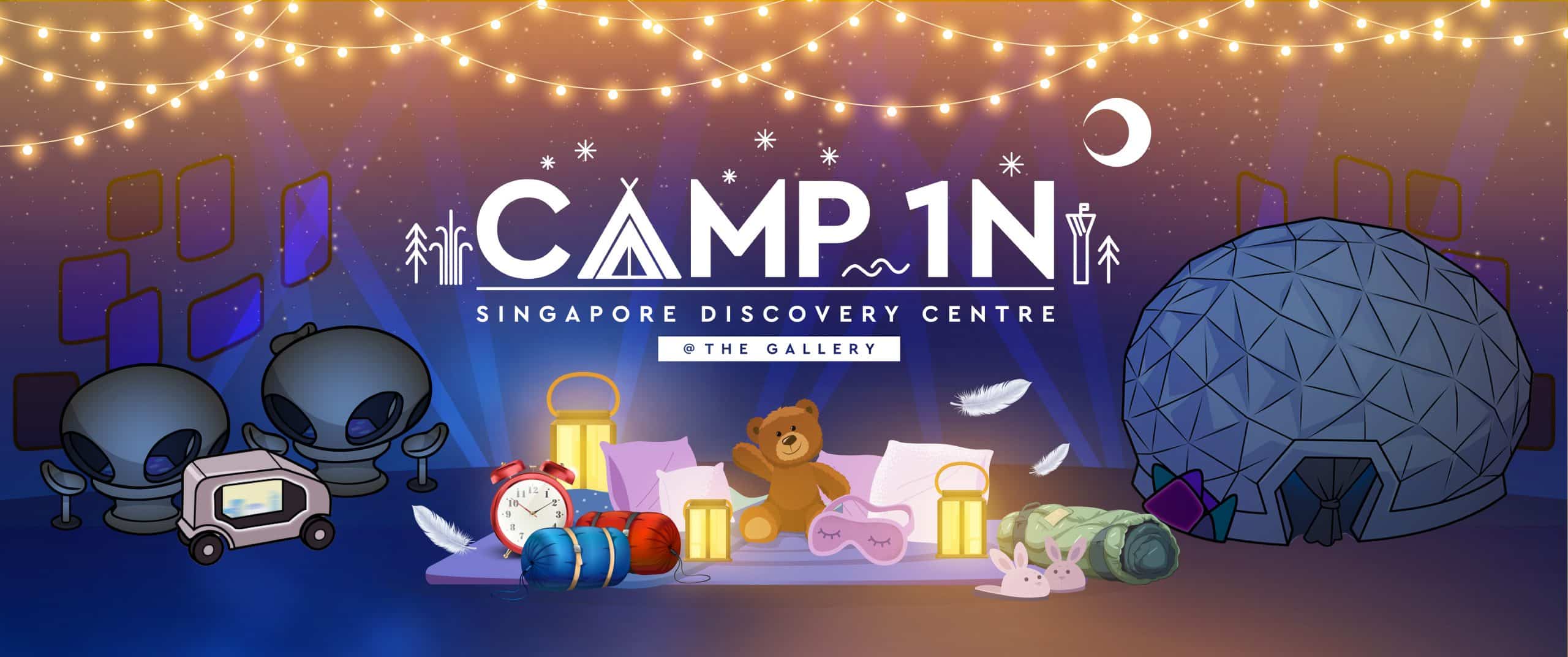 Registration is now
OPEN
!
Spend a night in our Gallery
CAMP 1N is back this June 2023! For the first time ever, get access to our Sandbox gallery exhibits after hours and snuggle up for an unforgettable sleepover experience at Singapore Discovery Centre.
Dates

1 June, 7 June, 12 June, 15 June 2023

Time

3:00pm (check-in)

12:30pm (check-out)

Pricing

$115 per pax (members)

$145 per pax (non-members)

Suitable for

Families with children aged 5 years and above
*Slots are limited, based on first-come-first-served basis. In the event that there are insufficient bookings for each run, please note that the event will not proceed.  SDC will contact those who are affected by the cancellation of the camp date.
As the sun goes down and centre doors close…
Explore the centre and enjoy SDC's signature fun-filled activities including scavenger hunts, 4D theatre rides, and laser tag


Cosy up in your favourite PJs for an interactive bedtime show


Enjoy delectable authentic Asian cuisine at Bottle Tree Cafe Restaurant by the picturesque Discovery Lake, and


End off the night by setting up camp and snoozing amongst the exhibits in our Sandbox Gallery!


Kickstart Day 2 with a unique and special silent yoga session for the whole family.

So grab your flashlight and sleeping bags – because this is one sleepover not to be missed!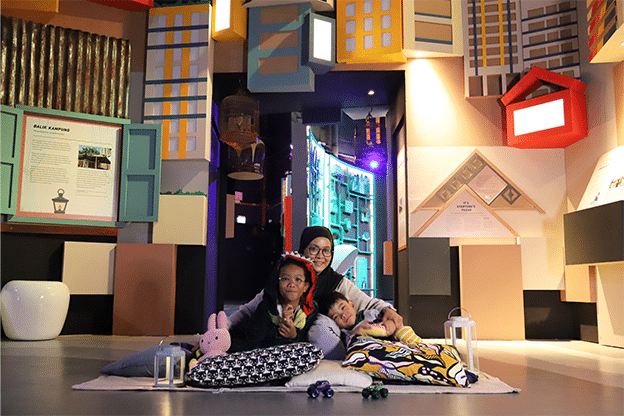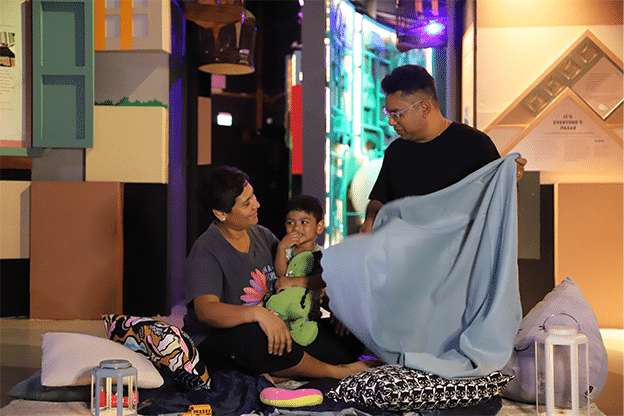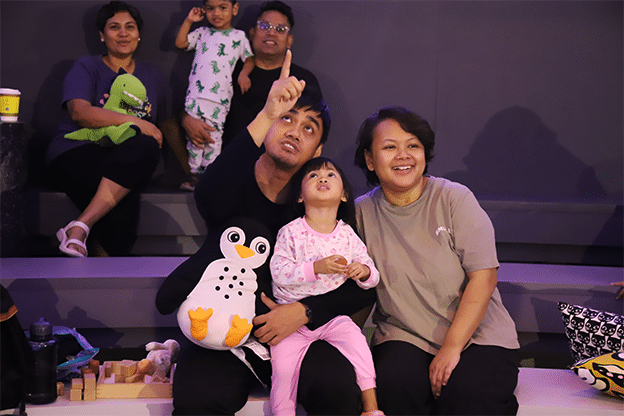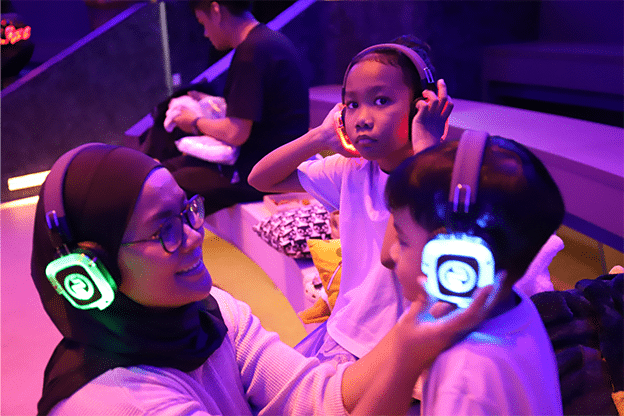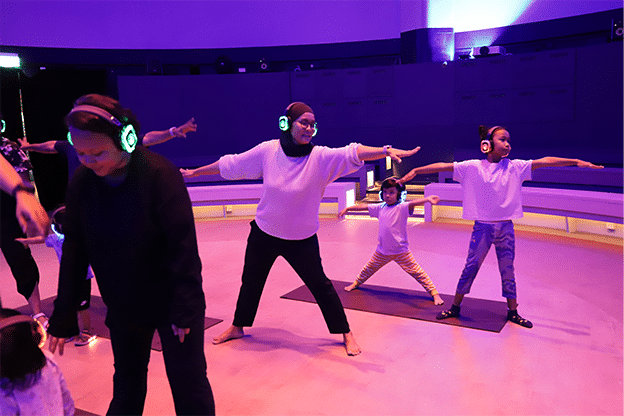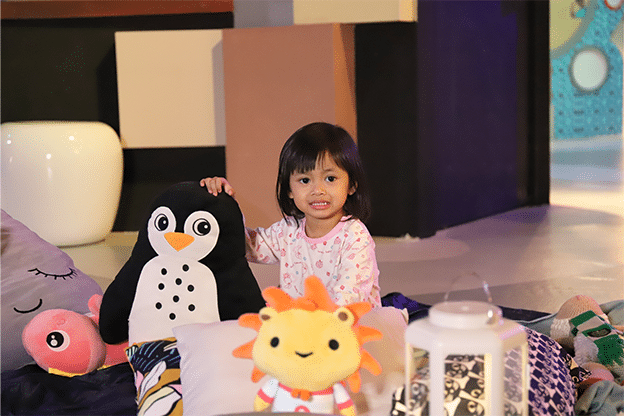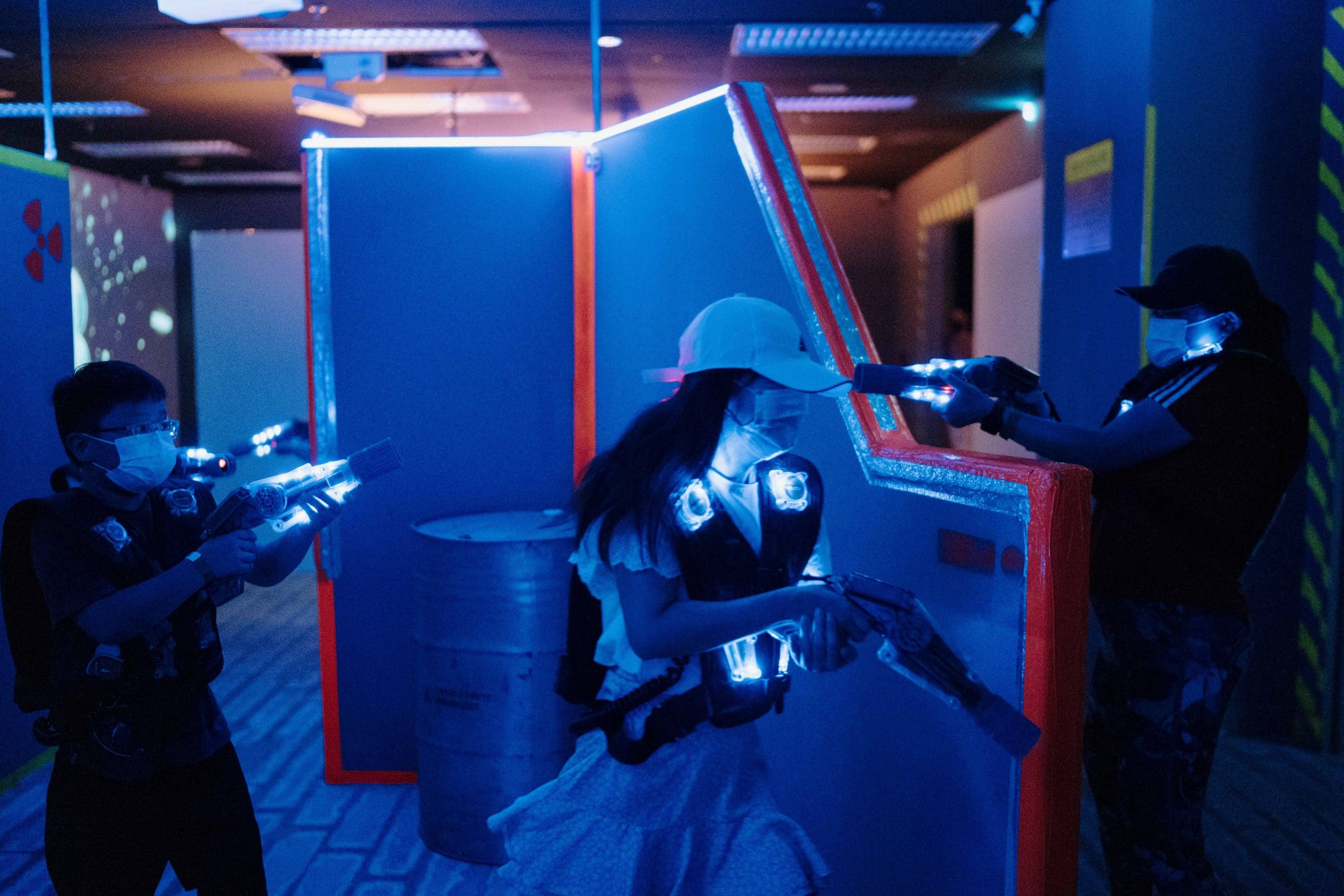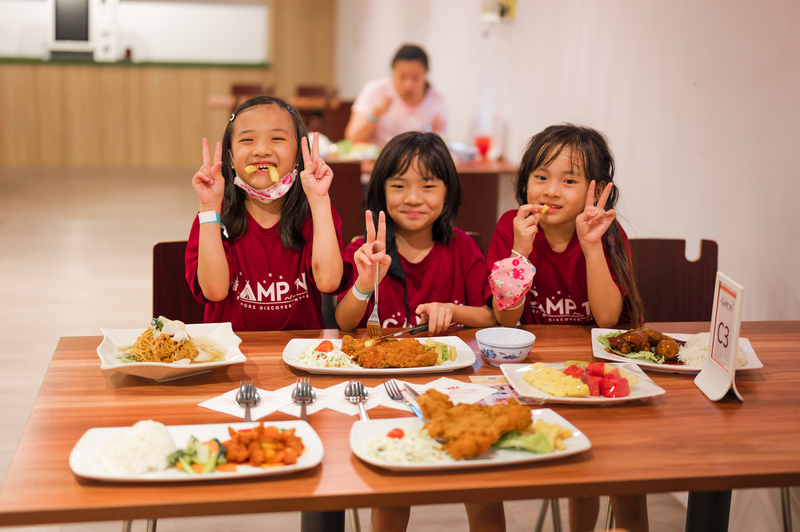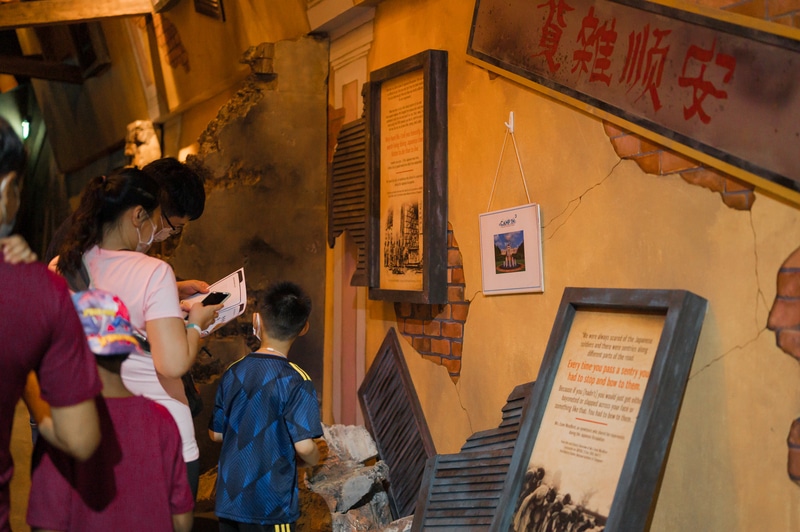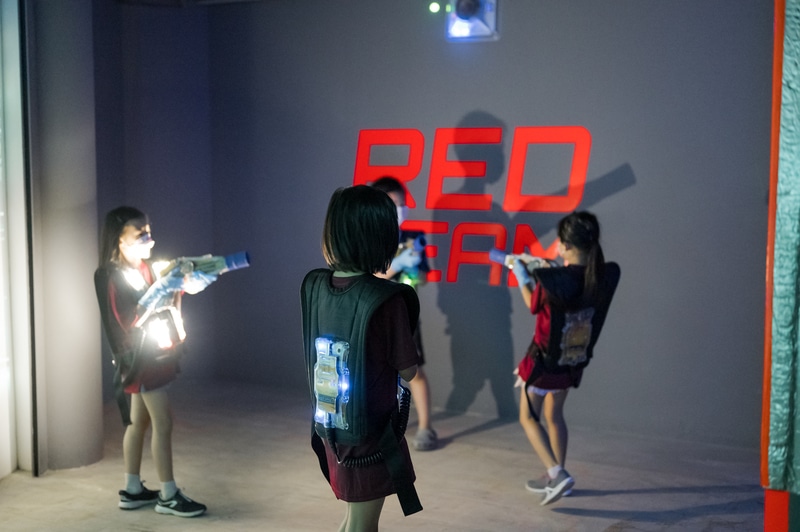 Dinner & Breakfast by the Discovery Lake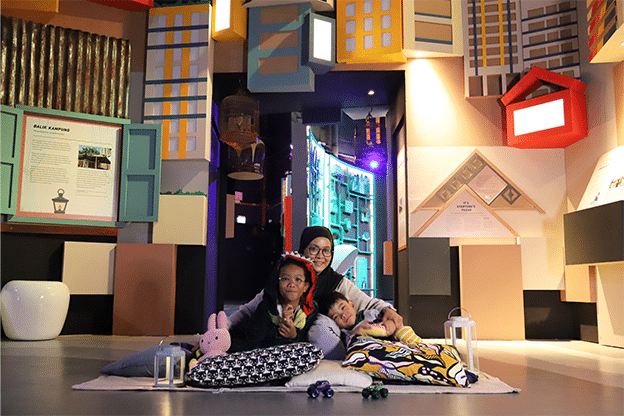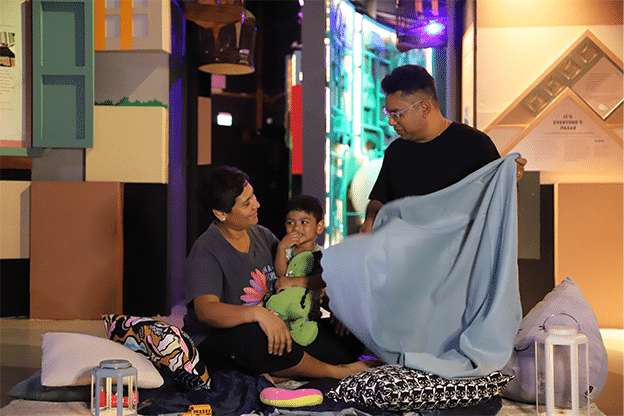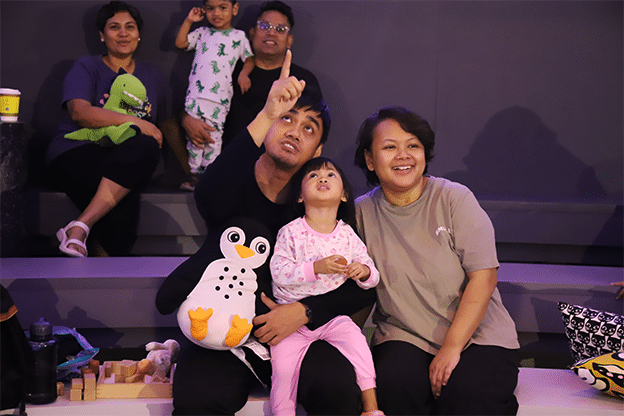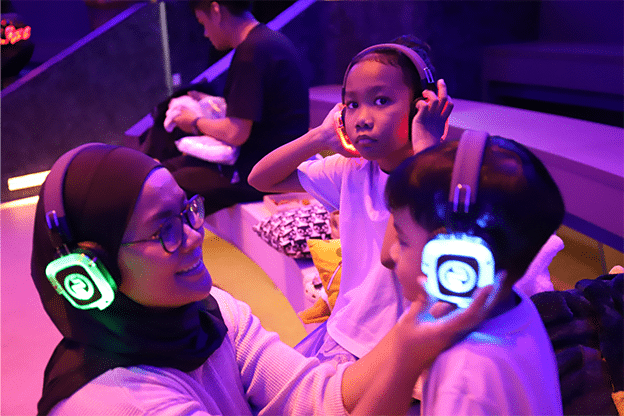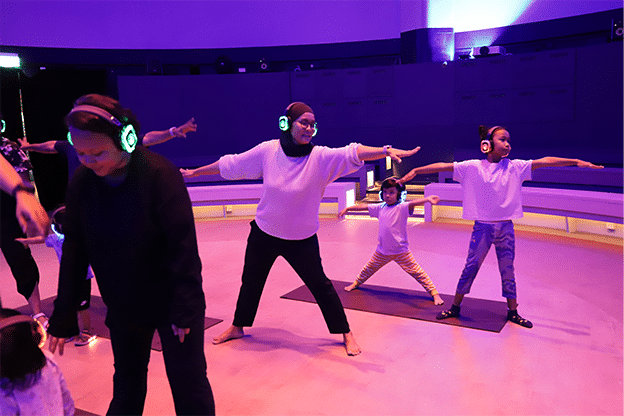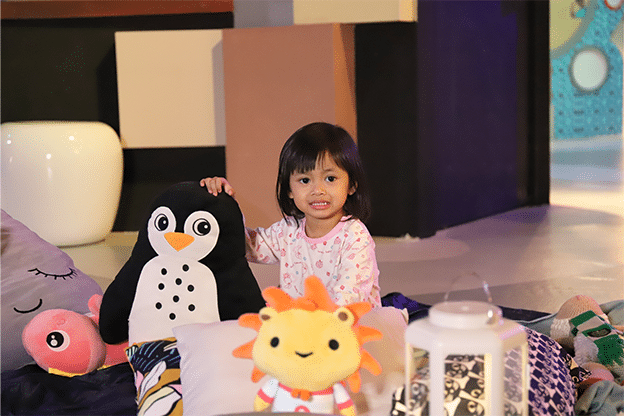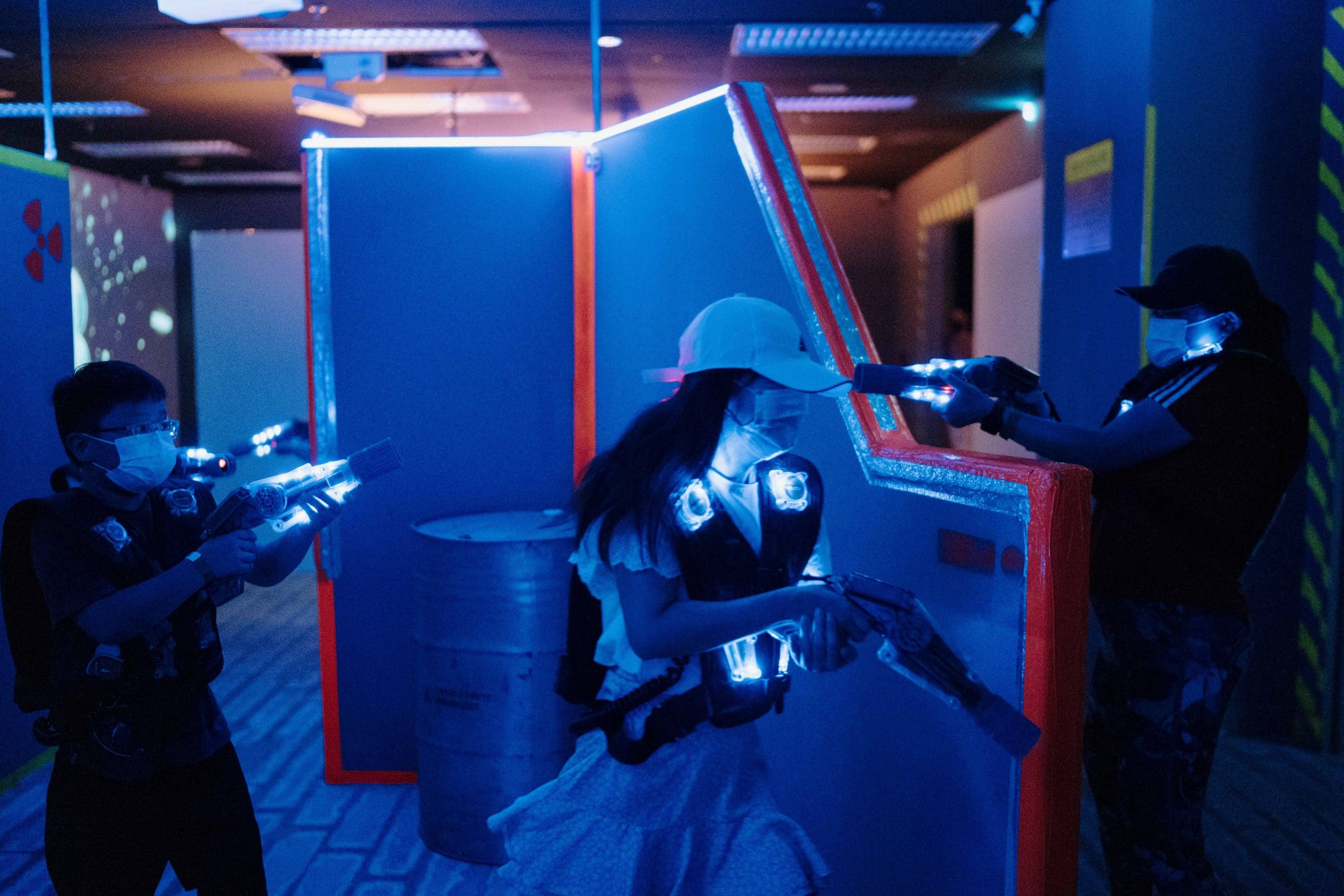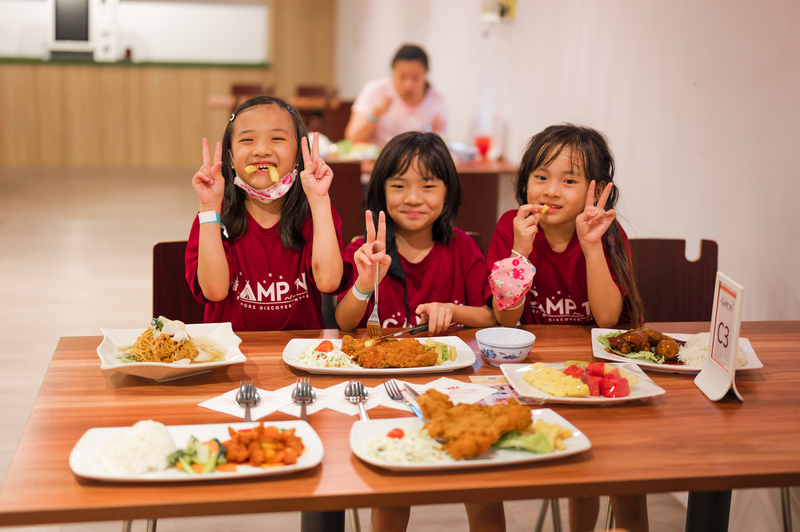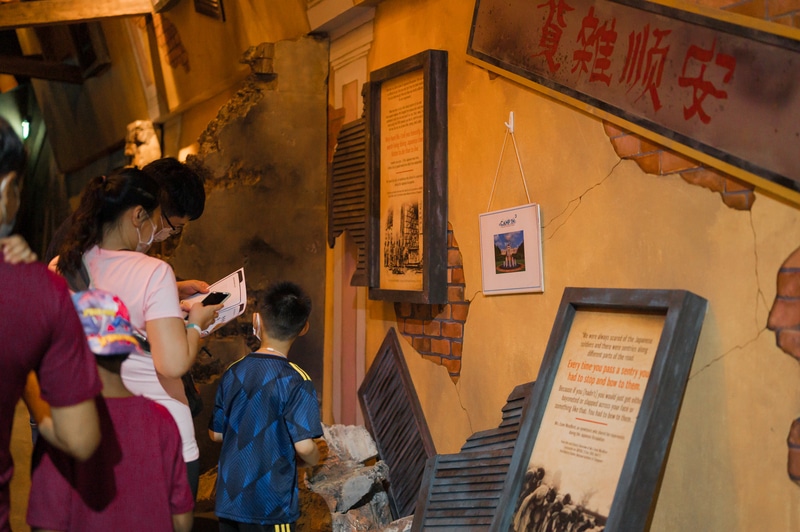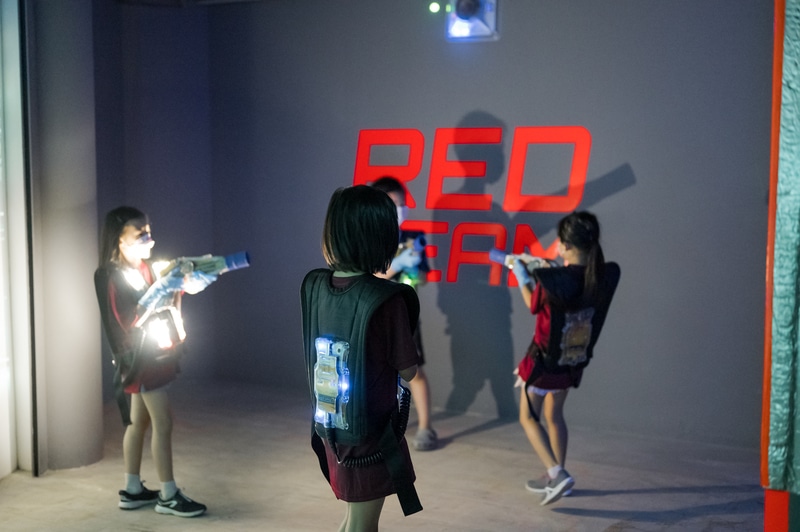 Images are for illustrative purposes only. 
Singapore Discovery Centre reserves the right to amend the itinerary and programmes without prior notice.
DAY 1

DAY 2

3:00pm

Welcome & Check-In

7:30am

Rise & Shine

4:00pm

Family Exploration Time

8:00am

Silent Yoga

6:30pm

Dinner

9:00am

Breakfast

7:30pm

Set up of 'Snooze Zones' @ Sandbox

10:00am

Pack Up and Check-Out

8:00pm

Scavenger Hunt

11:00am

Blockbuster Movie Screening

9:00pm

Bedtime tales @ Interchange

12:30pm*

End of Programme

*Subject to duration of movie

10:00pm

Wind Down

11:00pm

Lights Out!
| S/N | Item |
| --- | --- |
| 1 | Sleeping bag |
| 2 | Pillows, blankets, stuffed toys - anything to make your 'Snooze Zone' your very own! |
| 3 | Yoga mat |
| 4 | Toothbrush & toothpaste |
| 5 | Shower Gel & Shampoo |
| 6 | Change of clothes |
| 7 | Bath and face towels |
| 8 | Sunscreen, hat, shades |
| 9 | Water bottle |
| 10 | Covered shoes |
| 11 | Slippers |
| 12 | Any other necessities (i.e. personal medication) |
"Lots of fun activities for the family, and the ICs are super nice! Food is good. Kids are already asking to go for the camp again! Thank you!"
"Day is pretty packed with activities. (The) kids totally enjoyed themselves. Awesome!"
What will I experience during CAMP 1N @ The Gallery?
CAMP 1N is a fun-filled 2D1N Night in the Gallery experience here at Singapore Discovery Centre. 
The CAMP 1N package also includes meals and admission to SDC signature attractions such as our Black Lake Laser Battlefield (Laser Tag), XD Theatre Ride, Permanent Exhibits Gallery - Through the Lens of Time and Sandbox and other activities such as Silent Yoga, Bedtime Tales and a Scavenger Hunt!
When and where will the programme be held?
The programme will be held on selected dates from 30 May to 16 June 2023. This will be a 2D1N camp held within the compounds of Singapore Discovery Centre.
How much will it cost?
It is $115 per pax for SDC members and $145 for non-members.
How many people can I come with?
There is no minimum group size required, but all participants must be registered for the camp.  
Is there a minimum age required?
Yes. All participants are to be at least 5 years old and above and participants below 21 years old must be accompanied by an adult (21 years and above).
Can I come to the camp with friends?
Yes. All participants are to be at least 5 years old and above and participants below 21 years old must be accompanied by an adult (21 years and above).
Do I get any discounts if I am a SDC member?
Yes, SDC members are applicable for an exclusive discount. 
Only Family Explorers, Corporate and Corporate (Schools) members can enjoy the discounted rate. 
How can I sign up to be a member and will my membership be in time for Camp 1N?
To sign up to be a SDC member, visit www.sdc.com.sg/membership-register to apply online.
Membership confirmation is immediate after members activate their account. For new members signing up for the camp, please email [email protected] for support assistance. Please note that if during the process of applying for SDC membership and camp slots sell out, membership fee will not refundable.
Can I make a booking as a walk-in guest?
All bookings must be completed via SDC's website, availability is subject to first-come-first-served basis.
Is parking available and will there be parking charges?
Parking lots are available in Singapore Discovery Centre. ONE complimentary parking ticket will be given per registered group.
What time do we check-in and check-out?
Campers are required to check in at 3:00pm on Day 1 and the check-out time will be at 12:30pm the following day.
Where will we sleep?
All campers will be sleeping in a communal space in our Sandbox gallery. Do note that in order to fully immerse ourselves in the 'Night in the Gallery' experience, there will not be any tents and campers will be sleeping out in the open among our exhibits.
Campers are encouraged to bring their own pillows, blankets, stuffed toys - anything to make your 'Snooze Zone' your very own!
Do we have to bring our own pillows?
Registered campers are encouraged to bring their own pillows for a 'snoozier' experience.
Where do I get water?
There are several water points in the centre. Hot water is always also always readily available from the water dispenser, conveniently located at the Bottle Tree Cafe Restaurant.
Do I have to bring my own towels and toiletry?
Do bring your own towels, toothbrush, toothpaste, shower gel and shampoo. 
Are there shower facilities?
Yes. There is access to the shower facilities located within Singapore Discovery Centre.
Can I charge my phone at the campsite?
There will be a communal space with charging points near your Snooze Zone. As it is a shared space, do note that it is the campers' responsibility to take care of their own electronic devices and it is advised to not leave your items charging without any supervision.
Where will I keep my belongings?
There will be lockers provided, near the Sandbox.
Will all the lights in the Sandbox gallery be switched off when we sleep at night?
To create a 'Night in the Gallery' experience as well as for the safety of all our campers, some ambient lighting from our exhibits will be switched on. Although the overall lighting will be dim, we will be providing eye masks if campers require a much darker setting to sleep in.
Will meals be provided?
Yes. Dinner and breakfast will be provided.
Will the meals provided be Halal-certified?
Meals will be provided by Halal-certified Bottle Tree Cafe Restaurant. 
Will we have access to food at night?
Light refreshments such as drinks and biscuits will be provided upon request. Do note that the consumption of food and beverages is not allowed in our Permanent Exhibits Gallery.
What happens if it rains?
CAMP 1N will continue and certain activities may be cancelled due to inclement weather. Nevertheless, we will provide sufficient activities to keep campers engaged and occupied during the stay.
Can I leave at any time?
CAMP 1N is a 2-day 1-night programme. All registered participants are encouraged to stay for the duration of this camp to enjoy the whole experience. Should there be a need to exit from the camp at any time, do keep your respective Camp ICs informed.
What should I do if I fall ill or get injured?
You may approach any of our camp staff who will be present throughout the 2-day 1-night stay with you. We have certified first aiders on site to treat minor injuries. Should there be an emergency, we will activate medical/ambulance services.
Is there anyone I can contact at night if I need assistance?
There will be camp staff present throughout the 2-day 1-night stay with you.
Discounted Member tickets
Get your tickets at a discounted rate when you sign up as an SDC member!
Singapore Discovery Centre
510 Upper Jurong Rd, Singapore 638365